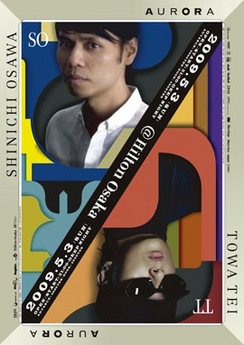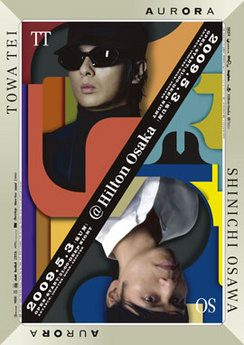 *******************************
AURORA
*******************************
今年のムーブメントとなるであろうニューパーティ・プロジェクト『AURORA(オーロラ)』が大阪で幕を開ける。レジデントは日本が誇るワールドスタンダードDJ『テイ・トウワと大沢伸一(MONDO GROSSO)』の強力ダッグ。しかも会場はワールドワイドにブランディングを展開する『ヒルトンホテル』で開催!!
大阪駅前にそびえ立つ高層ホテルのボールルームは、一面絨毯張りでキラキラ眩いシャンデリアが輝く2000人オーバー収容のラグジュアリー空間。GWの夜、ヒルトン大阪の披露宴会場がエンターテイメントスペースへと変貌し、FIVE STARのサービスを提供します。更に当日は伊勢・志摩から自然の恵みをご用意。あわび、てこねなどの名産が到着!!これこそがホテルパーティの最大の魅力!!!
様々な大規模なクラブパーティやフェスが開催されるなか、『AURORA』は、よりグラマラスでラグジュアリーな至高のパーティを目指します。
世界恐慌の嵐が吹き荒れるなか、『AURORA』はアナタの気持ちを癒し、満たします!
(パリス・・遊びに来ないかな….!?そんな希望を抱きつつ・・!)
We will proudly start the big party of new project from osaka. that
would make one of the greatest movement.
at GW 2009, DJ TOWA TEI and SHINICHI OSAWA, they are going to have
the resident party named 「AURORA」
this special party, we have chosen the beautiful place "Hilton Osaka"!!
this place is well known by the best service and quality even all over
the world.
the hotel's location is in front of Osaka station very convinient to go.
and Hilton Osaka has the big ball room which has the shiny shangri-
la and over 2000 people of capacity with gorgeous carpet.
you can absolutely enjoy and feel like executive and luxury space.
that day, it changes to the "non-daily"entertainment space and
also have five stars service. so you can understand why I've chosen the place "hotel"
and more special info! we will have the space to get some foods from ISE SHIMA.
you can enjoy not only musics but also taste of the real sea foods.
nowadays, we can go and see a lot of big fes. but the AURORA, it's
more gramourous and luxuary party than of all.
The party AURORA promises that we can make you feel very happy and be satisfied
we can say that you absolutely have big fun from 「TOWA TEI and SHINICHI OSAWA's sounds」
(I'm waiting for Paris Hilton's coming lol)
2009年5月3日@ヒルトン大阪/宴会場(ホテル宴会場 4F&5F)
AURORA
RESIDENTS DJ:DJ TOWA TEI&SHINICHI OSAWA
DJ:DJ GOLDEN,DJ JUSE
VJ:ENLIGHTENMENT,E-RANGE
VISUAL SYSTEM:MONOLITH
SOUND SYSTEM:FUNKTION-ONE(TRY AUDIO)
and more!!!
FOOD:▽THE GRACE OF ISE/SHIMA (伊勢・志摩の恵み)
料金:
前売り 3000YEN
当日:3500YEN
(*前売り優先入場)
(*共にドリンク代別途500円必要)
OPEN/START:21:00~DEEPNIGHT
ーー特典ーー
1.
*京都贔屓でごめんなさい!
プレミア前売チケット:2000YEN
( WORLD店頭販売のみ/WORLD営業時間外はイマージアム2F事務所にて正午12:00~22:00まで受付しております。いつもWORLDをご愛顧頂きありがとうございます!!)
2.
*HAPPY BIRTHDAY PRESENTS!
5/3&5/4がお誕生日の方、無料招待!(必ず運転免許証又はパスポート、どちらかのIDをご持参ください)
プレイガイド:
チケットぴあ 0570-02-9999(Pコード 321-463)
ローソンチケット  0570-084-005(Lコード 58661)
CN(セブンイレブン) 0570-08-9999
e+ http://eplus.jp
主催:RANGE CO LTD.
企画制作:世界WORLD/hug inc./エイベックスエンターテインメント
協力:HILTON OSAKA
後援:αーSTATION(FM KYOTO)
協賛:PELICAN,WeSC,DIMMAK,Pioneer,ASAHI,Red Bull,ZIMA,APN
SPECIAL THANKS:FAN,Hermitage,WarmGun,blume*,lintrus and All Clubs of Kansai!
イベント内容に関するお問い合わせ:世界WORLD 075-213-4119
宿泊、会場詳細に関するお問い合わせ:HILTON OSAKA 06-6347-7111
ーATTENTIONー
*年齢制限:20歳未満の未成年者のご入場はできません。
当日ID CHECKを全ての方にお願い致しますので身分証を必ずご持参ください。